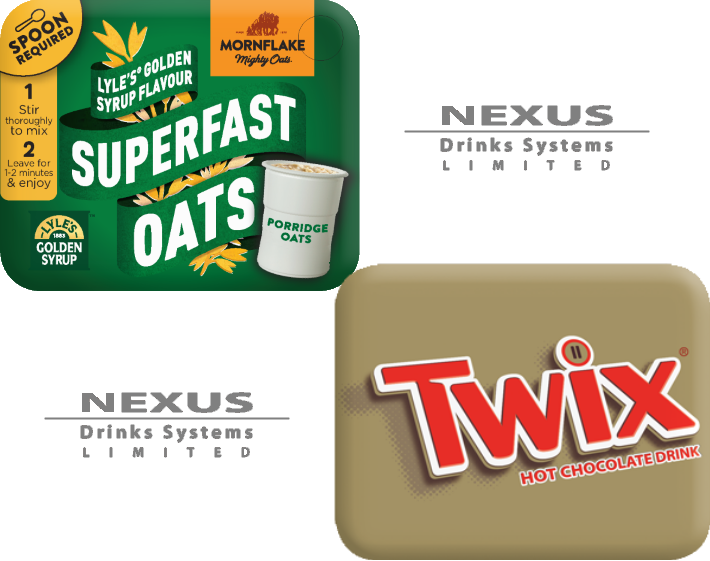 Lavazza Professional has launched two brand new speciality flavours to accompany the KLIX Momentum in-cup vending machines. The new Twix hot chocolate and Mornflake porridge oats are two exciting new additions to the array of products currently on offer.
New Twix Hot Chocolate for KLIX Vending Machines
Lavazza has teamed up with Twix to bring you one of the UK's most popular chocolate bars in the convenience of a KLIX cup. It brings you the iconic Twix combo of chocolate, caramel and biscuit flavours as a tasty hot drink. Made with real chocolate, you can enjoy the luxury of a Twix hot chocolate through the ease of a KLIX vending machine. Take a break from your busy workday schedule and enjoy the perfect afternoon treat! We are sure this will make a great addition to the KLIX Momentum- the most up to date model of the in-cup system on offer. Every workplace could use the simple joy of a luxurious hot chocolate.
Your KLIX Vending Machine Can Now Serve More Than Just Hot Drinks!
They say breakfast is the most important meal of the day. However, sometimes it doesn't feel like there is enough time in the morning to make it a priority. Not to worry! Lavazza has made it their mission to ensure nobody goes hungry at work. Their new innovation for the KLIX vending machines is the Mornflake Superfast Porridge Oats. A delicious and satisfying blend of creamy oats with a hint of Lyle's Golden Syrup Flavour. This is the perfect way to kickstart the day! With only a 17 second vend time, these are perfect for breakfast on the go. This would make a great addition to any workplace KLIX vending machine. It is a quick and simple solution to not having on-site catering. Or for those with simply not enough time in the morning. A morning meal is just as important as a morning caffeine hit!
Where Can I Find Out More?
To find out more about these new flavours get in touch with Nexus Drinks Systems Ltd today. We can help you find the perfect option for vending in your business outlet.