WMF Bean to Cup Coffee Machines for Your Workplace
With over six decades' design experience behind the range, it's no wonder that WMF bean to cup coffee machines are held in high regard. These are beautiful machines with a stunning build quality. Assuming standard maintenance, a WMF coffee machine will support heavy use for years to come.
We offer the full range of WMF machines which includes:
WMF 5000 S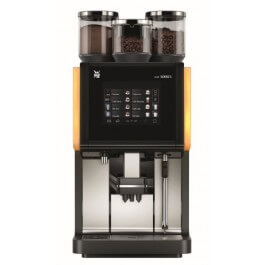 The goal behind the WMF 5000 S is to deliver fantastic coffee at speed. That's especially important in an office environment, when an 11am meeting may mean several coffee aficionados all want something spectacular at 10:55. The watchword WMF use for coffee from this machine is 'indulgence' and when you've sampled a cup you'll soon see why.
Control is also extremely easy – you can order your coffee at the push of a button and the machine will take care of the rest, from grinding the beans onward.
It can even be integrated with WMF CoffeeConnect, a digital platform that can help streamline service and maintenance management.
WMF 1100 S
This compact coffee machine boasts a maximum output of 80 cups per hour. It's designed to deliver high quality consistently across a wide range of coffee and chocolate drinks, while also saving counter space in the breakroom. There are five colours available, meaning it will blend easily into any room it's installed in.
Specially decoupled grinders are used to prepare your cup quietly, and patented SteamJet technology allows cups to be preheated for the perfect experience.
Not only is it as easy as pushing a button to operate the machine but cleaning the machine daily is just as simple – our patented Click&Clean functionality is easy to run once a day, as and when needed.
Making the Right Choice
With over a quarter of a century's experience working in the refreshment industry, Nexus Drinks will always go the extra mile to make sure our customers get exactly what they need. If you're not sure which bean to cup machine best fits the needs of your location, please get in touch.
We know exactly what questions to ask to guide you to the perfect machine, and we can get the ball rolling to supply it too.