Enjoy high-grade Italian coffee at a safe distance with the Coffetek VITRO X4 Espresso Contactless Coffee Machine. This state of the art machine features innovative distance selection technology that enables consumers to order a coffee without having to press a button. Ideal for all workplaces and public venues looking for a more hygienic way to order coffee, this contactless coffee machine offers ease and peace of mind during unprecedented times. Thanks to its cutting edge technology, you can enjoy a wide range of delicious hot drinks without having to worry.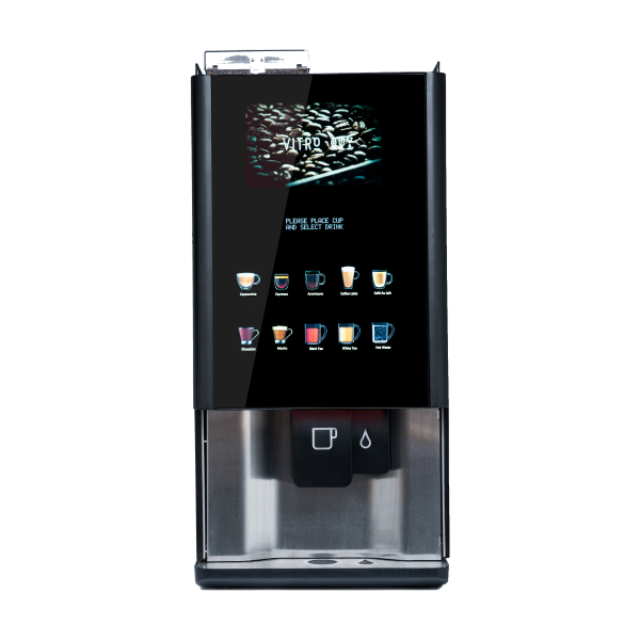 With many contemporary features, this sleek coffee machine looks good in almost any setting. It also boasts mood lighting and an optional 10.1 inch HD media screen. It features two large canisters and a dual boiler system, allowing it to run two temperatures at the same time. If that's not enough, the VITRO X4 can also produce a large quantity of coffee, making it a great choice for bigger organisations.
How does Distance Selection technology work with commercial coffee machines?
Distance selection technology is designed to provide a clean and safe user experience. The VITRO X4 is a touchless coffee machine with no buttons to push. Instead, the icons for each type of coffee are displayed on a screen. Consumers simply hold their finger approximately 2cm away from the coffee icon of their choice. The machine then makes a tasty cup of coffee using freshly ground coffee beans and micro-foam milk technology.
With this machine, everyone can get themselves a barista-style coffee whilst following the correct safety precautions. This technology even works when wearing protective clothing. From offices to hospitals, this contactless coffee machine is a popular choice for everyone. In keeping with the touchless theme, there is also a contactless payment option.
What are the advantages of a touchless commercial coffee machine?
Considering these uncertain times, Coffetek Vitro X4 is a great way to safely obtain a fresh cup of coffee. In time, consumers will gradually feel more confident in using coffee vending machines again. Thanks to touch-free technology, you will no longer have to worry about sanitising the machine after each use. If you're looking for a coffee dispenser for office buildings, this machine is the best choice. It is low maintenance, compact, and easy to use. No matter how many employees you have, this machine also has the capacity to make large quantities within a reasonable time frame.
What drinks can the Coffetek Vitro X4 Espresso machine make?
When it comes to delicious hot drinks, the VITRO X4 boasts a whole host of options. Whether you want a double Espresso or a creamy latte, you'll be totally spoilt for choice. Other options include americano, cappuccino, mocha, black tea, instant black coffee, instant white coffee, and hot chocolate.
Enquire Now
To find out more, give us a call or email our friendly team today, or fill out the form below.
Summary
Reviewer
Review Date
Reviewed Item
Coffeetek VITRO X4 Distance Selection Espresso Machine
Author Rating
Product Name
Coffeetek VITRO X4 Distance Selection Espresso Machine