The FLAVIA Barista: Great Tasting Coffee from a Great Machine
The FLAVIA Barista Brews Great Espresso in Under 40 Seconds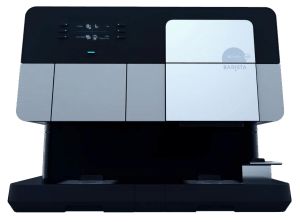 With high pressure technology that allows for much faster brewing times without losing any of the flavour or body of the coffee and an array of digital sensors that ensure it won't pour without a cup to collect the flavour, the FLAVIA Barista shows the same dedication to great coffee as other machines in the FLAVIA range.
The Barista is stylish no matter what angle you approach it from, designed to sit as well in the heart of the office break room as it would do plumbed in on one side, depending on your layout and requirements. While it can be plumbed into your premises' water supply it doesn't have to be and can be easily filled.
Great Tasting Drinks from Trusted Names
Like all FLAVIA machines, the technology in use avoids flavour cross-contamination and makes cleaning easy while still affording you access to a wide range of hot drinks available from Lavazza, including many of Britain's favourite brands of coffee, tea, drinking chocolate and much, much more.
Each individual pack has its own filter, and so there's no reason to worry about flavour traces from previous orders remaining in the machine's filter as can sometimes happen with other brands. Instead, the filter pack does it all – and as a bonus, it keeps all that flavour sealed in so that when you brew up, you'll lose none of it!