The FLAVIA Creation 500: Coffee Shop Quality in Your Workplace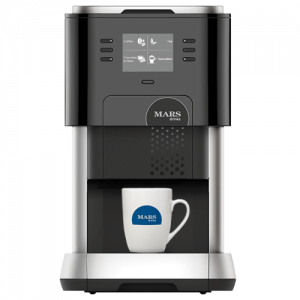 Lavazza' FLAVIA system brings the coffee shop experience to your desk – but you won't be paying barista prices. The Creation 500 is an office coffee machine designed and built for modern workplaces.
FLAVIA offer a superb range of individual drinks from many of Britain's favourite brands, catering to all tastes, sealed into the unique FLAVIA filter pack design.
These packs mean the full aroma and freshness is preserved for your cup, every time.
Convenient
The Flavia Creation 500 is designed for continuous operation; your first cup of the day is only seconds away, and an innovative tank system heats water to exactly the right temperature for your chosen drink, heating only enough for the next few drinks at a time.
This energy-saving design is better for the environment and better for your business' electricity bill month after month, with no unnecessary boiling.
An Impressive Drinks Menu
With twelve different fresh ground coffees – everything from a full-bodied espresso to a perfect latte, with a decaffeinated option among the range – and multiple real leaf teas covering all of Britain's favourite brews, as well as a hot chocolate with the smooth taste of Lavazza, FLAVIA has something for everyone.
FLAVIA Filter Packs
What makes the FLAVIA system stand out is the clever filter pack design.
Each cup comes in its own filter pack, with the aroma and flavour sealed in until the moment you load it into your Creation 500 and set it running. The drink is then freshly brewed; in under 30 seconds you'll have a piping hot, flavourful fresh cup.
Creation 500 Accessories
We offer a full range of accessories for your Creation 500, suitable for any workplace environment, including base cabinets as well as drinks merchandiser and paypod systems for coin or token operation.
Your Creation 500 can be plumbed into a water supply for easy use.
Ordering from Nexus
Nexus Drinks have over 50 years in the refreshments business and a strong national support network. Nobody knows more about hot drinks machines than we do, and nobody offers a better range of vending machines and coffee machines.
To order one or more FLAVIA 500s for your workplace or simply to find out more before making your choice, you can call us on 0800 454 301, email [email protected], or reach us through our contact form.