The FLAVIA 200: Effortlessly Great Coffee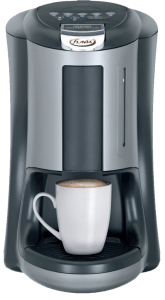 The FLAVIA Creation 200 is a compact machine ideal for company premises with between fifteen and forty employees. It's small enough to be portable and wouldn't look out of place somewhere client-facing.
The FLAVIA 200 also boasts an internal water filter and uses FLAVIA filter pack technology to deliver the smoothest possible taste.
The internal filter will run for around 1600 cups of coffee or six months at a time.
Any cup takes between forty and sixty seconds to brew, and you can instantly load a new filter pack to set the next drink going.
Best of all, the filter pack technology means no flavour contamination no matter how different your drink is to the one made by the employee before you.
Lavazza' Great Brands
Through the Lavazza brand FLAVIA machines have access to most of Britain's best-loved hot drinks brands, including great coffees, teas, herbal teas and hot chocolates.
That's one of the reasons we recommend it for medium-size premises; there's something for everyone no matter their preference.
Equipping Your Business
You can turn to Nexus Drinks for fast delivery of your FLAVIA Creation 200 as well as for refills and resupplies for coffee machines to businesses across the UK.
To discuss your options or order you can contact us online, at [email protected], or over the phone on 0800 454 301.