The FLAVIA 200:
Great Coffee, No Mess, No Fuss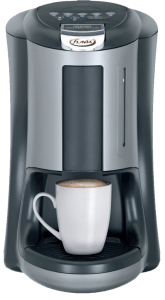 The FLAVIA Creation 200 is a compact, elegant machine recommended for medium size companies of between fifteen to forty employees. Portable and flexible, it makes an excellent centrepiece for any break room's coffee table and won't look out of place discreetly at the side of a showroom.
With an internal water filter to ensure that no unpleasant contaminants from the water supply make it to the cups of your staff, the FLAVIA 200 ensures the smoothest taste by also using FLAVIA filter pack technology for each individually packed drink.
The water filter is good for about six months at a time, or roughly 1600 individual cups.
With no mess and no fuss, the one cup at a time process of the Creation 200 won't even slow your office down too much as any cup takes between forty and sixty seconds to brew, with the machine immediately ready for the next drink.
As a result of the filter pack technology in use here, the FLAVIA 200 avoids flavour contamination no matter what you're making or what the employee before you made.
All the Great Names from Mars Drinks
The Mars Drinks brand includes many of Britain's favourite names in hot drinks, and all of them are available for FLAVIA machines like the Creation 200.  Whatever great taste you're looking for can easily be delivered from a FLAVIA system.
That's one of the things that makes it so perfect for an office with a wide range of drink preferences; there's something for everyone, and the flavour of one drink doesn't linger to affect another.
Outfitting your Premises
The FLAVIA Creation 200 is available for fast delivery from Nexus Drinks, also a leading provider of refills and resupplies for coffee machines across the UK. To order or simply for more information, contact us online, at enquiries@nexusdrinks.com, or at 0800 3357 500.