Designed with the coffee shop experience in mind, the Lavazza FLAVIA Creation 600 is the latest generation of barista-grade technology designed to blend perfectly into your day-to-day office experience.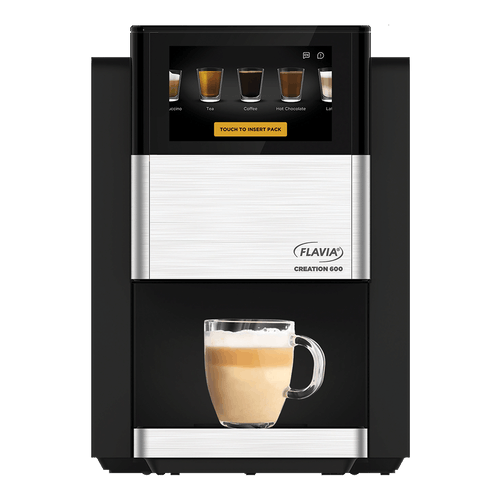 For quality coffee without the chain store price tag, the C600 is the ideal option. Part of the Lavazza Professional Coffee range, innovative features, and unique, time-saving brewing makes the coffee-making process easier than ever. FLAVIA is well-known for its versatility and coffee shop style experience, delivering up to 15 different distinct Lavazza FLAVIA coffee drinks in one compact device.
In addition, an A+ energy rating and zero waste approach make this streamlined machine as good for the environment as it is for the workplace, helping make your business greener without sacrificing incredible coffee in the process.
Take personalisation to the next level
With the new C600 model, FLAVIA Tap N' Brew is included as standard. All you need to do is download the app, and you can personalise, select and brew your favourite drinks completely hand-free. All you'll need to do is insert the specific Freshpack you want once you've figured out your drink, and let the brewer do all the hard work for you.
As for milk and milk substitutes, the Lavazza FLAVIA Creation 600 has you covered. If you prefer, you can use your own milk (lactose free milk, vegan milk, soy milk, or otherwise) to tailor your drink to your specific references.
For the ultimate in convenience and all-important hygiene control, that's a plus for any modern workplace. Custom strengths and sizes are made possible with an inclusive smart sensor system, making sure your cup never runs over.
Whatever your preferred brew, Lavazza Freshpacks seal in the delightful freshness of coffee beans to achieve a delicious aftertaste, in combination with FLAVIA Frothing Technology for the perfect finish. With over 25 years of expertise in coffee machines, Nexus Drinks is your ideal choice for FLAVIA technology. So why not get in touch today to find out more?
Discover the new coffee range from Lavazza FLAVIA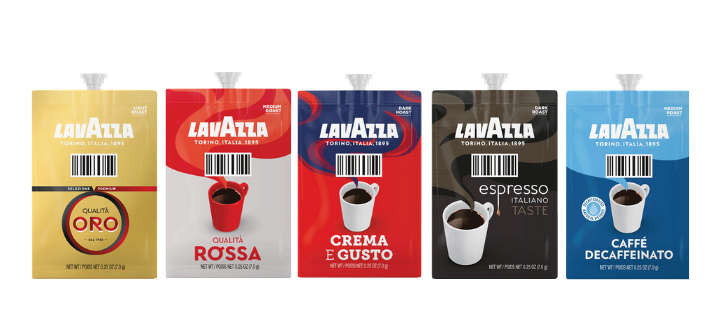 Flavia Lavazza Oro Coffee
The classic and iconic blend, Oro, is a staple for every Lavazza FLAVIA device and a firm customer favourite. Crafted from six unique varieties of Arabica beans sourced from South and Central America, this distinctive coffee is the blend that keeps on giving. Lavazza loves it so much that Oro has been a permanent staple since 1956. If you're keen on tasty, fulfilling coffee with a middling intensity, then Oro is an ideal fit for you. It's a coffee to be savoured and one that will keep you coming back for more time and time again.
Flavia Lavazza Rossa Coffee
A hearty and warming coffee, Qualita Rossa is the modern equivalent of an Italian classic. Often the top choice for coffee breaks across the Mediterranean; this aromatic and delicious coffee ticks all the boxes for more than the average caffeine fix. Both Arabica and Robusta beans are used to create the final flavour profiles: smooth, well-balanced, and the perfect taste with or without milk. If you're looking for medium intensity with soothing flavour, Rossa has you covered.
Flavia Lavazza Crema E Gusto Coffee
A spicy and creamy flavour combination that takes you to distant climates, Crema E Gusto is the ultimate dark roast coffee for those days when medium intensity just isn't enough. This Brazilian and South-East Asian combination has plenty of body and added spice to build that intensity and bring on the flavour a perfect blend of exceptional quality Arabica and Robusta. If you like your coffee black, Crema E Gusto is well worth a taste.
Flavia Lavazza Espresso Italiano Coffee
What's a coffee collection without a quality espresso? This Italiano Espresso is no exception to that rule. Created in a range of different intensities and blends, this versatile coffee can be tailored precisely to your tastes for a personalised experience. A strong aftertaste and sweet notes make this medium road coffee the ideal way to start your day without sacrificing that exceptional coffee shop level of flavour.
Flavia Lavazza Caffe Decaffeinated Coffee
If you're not looking for a caffeine rush but appreciate the complex and delicious flavours of quality coffee, the Lavazza Caffe Decaffeinated Coffee is the one for you. This coffee is incredibly aromatic and packed with Arabica beans sourced directly from Central America with low to middling intensity. That authentic coffee taste without the added buzz makes Caffe the ideal way to wind down after a long way in the office.
Try the luxurious new Single Pack Indulgence series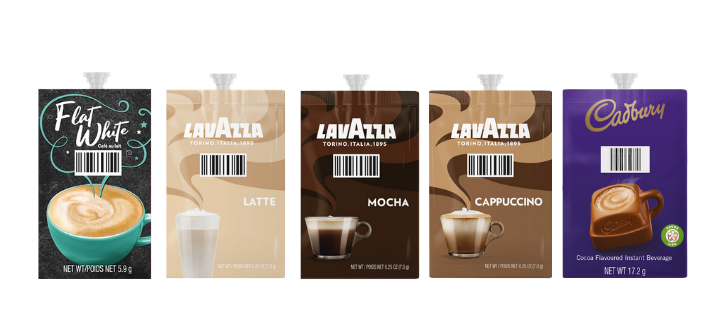 Flavia Lavazza Flat White Coffee
If you know exactly what you like and how you like it, the single-serving Lavazza Flat White will be calling your name. With everything included, from that frothy finish to delicious coffee in one shot, you can sit back, relax, and let your C600 do the brewing for you. Prontissimo Espresso beans are micro-ground with powdered skimmed milk to deliver a beautifully mellow finish and taste.
Flavia Lavazza Latte Coffee
The perfect Latte is here in the form of the single pack Latte serving, Created from a combination of deliciously rich Prontissimo Espresso beans and skimmed milk ground finely to a powder form. A C600 can instantly transform your single pack into a delicious, luxury latte that wouldn't look out of place in any coffee shop. With instant foam included, this is the kind of luxury that's worth a second look.
Flavia Lavazza Mocha Coffee
A mouth-watering hint of chocolate and handpicked Prontissmo Espresso makes the single Mocha packs the ideal pick for anyone with a little bit of a sweet tooth. Rich, micro-ground beans mingle perfectly with skimmed milk powder and cocoa for a rich and moreish end result. Simply set to brew and let the C600 do its thing for a delicious mocha any time of the day or night.
Flavia Lavazza Cappuccino Coffee
An absolute classic for any coffee setup, the single-packet Cappuccino hits all the right spots. Each single-use packet comes with the iconic Prontissmo Espresso beans, micro-ground with skimmed milk to achieve a tasty end result. All the magic happens in the C600, leaving you with that beautiful foam and iconic dusting on top that every Cappuccino must have to pass the coffee shop test.
Flavia Cadbury Chocolate
For those who prefer to steer clear of coffee, single pack Cadbury Chocolate is the ideal option. Perfectly sweet and packed with rich, milky chocolate flavour, these branded packs are designed to be warming, tasty and an all-around hit in just about any workplace. Now that's a real luxury. Like the look of the Lavazza FLAVIA Creation 600? Nexus Drinks is your perfect partner for high-quality drinks technology with a flexible payment system and excellent customer service. Drop us a line today to find out more about the latest that FLAVIA has to offer.