Mars Drinks' Klix range offers you many of your favourite brands to drink
The KLIX® Vending drinks system will be appreciated by everyone with good taste. Not only does it provide a refreshingly good selection of hot and cold drinks 24 hours a day, but its stylish, slim-line design looks smart in any setting.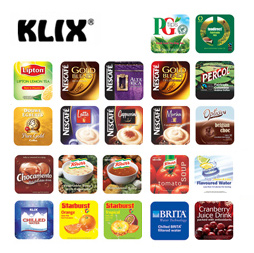 We take ingredients from market-leading brands, such as Nescafe Gold Blend and PG Tips, and seal just the right amount directly into the cup. This includes real tea bags, and the in-cup concept also means we can add extra touches – such as croutons or pasta in soup – to make your break-time an even more delicious experience.
Our unique system keeps in all the flavour and guarantees the quality of every single drink. All you have to do is press the button, and we add pure, clear BRITA filtered water.
Next, as if by magic, your drink stirs itself, dissolving the ingredients to give you a delicious drinking experience, over and over again.
Klix Outlook – Designed, manufactured and supported by MARS®
KLIX® machines are manufactured by Mars Drinks, the drinks division of the MARS® group of companies – giving you the added reassurance of built in quality and service support.

Klix 450

Compact and efficient, the KLIX 450 is ideal for the smaller office or workspace. Select eight drink selections from the KLIX vending range and this tabletop drinks system will deliver 400 cups of perfection, utilising the cutting edge innovation of our in-cup technology. Simple and intuitive one-touch operation lets you enjoy the brands you love, exactly the way you love them.
8 Drink selections
Brands you know and love
Easy to set up, simple step by step guide
User friendly
Fast drinks delivery
Call Now:
0800 3357 500
With 25 years in the refreshments business and a national support network, nobody knows more about vending than Nexus and nobody offers a wider range of vending machines and coffee machines.
To find out more about vending machines from Nexus Drinks give us a call now on:
0800 3357 500
Or email us at enquiries@nexusdrinks.co.uk and you can have a coffee machine delivered within days.