Mars Drinks' Klix range offers you many of your favourite brands to drink
KLIX Vending hot drinks machines provide a refreshingly good selection of hot and cold drinks 24 hours a day, and their stylish, slim-line designs look great in any setting.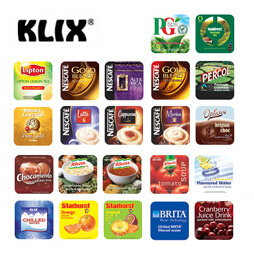 KLIX's in-cup system allows just the right amount of high-quality ingredients from market-leading brands like Nescafe Gold Blend or PG Tips to be sealed directly into the cup, with extra touches – like croutons or pasta in soup – to make the KLIX experience stand out.
At the touch of a button, pure, clear BRITA filtered water is added, chilled or heated as required. There isn't even any need to stir!
KLIX's in-cup system also means that all of the action happens in the cup, with no staining, leftover residue, or any other clean-up required – making KLIX drinks machines some of the easiest to maintain and clean on the market.
KLIX Momentum – Designed, Manufactured and Supported by Mars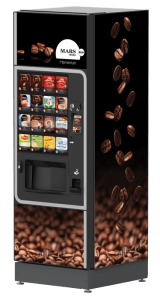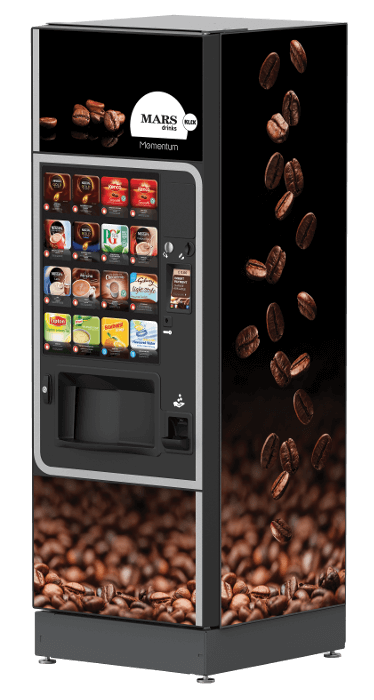 The KLIX Momentum range replaces the Outlook line of KLIX vending machines, providing a full-service solution with a wide range of drinks and a 17-second vending time. Momentum machines can be configured for cashless, KLIXKEY or coin operation depending on your preference, and the 5-inch colour touchscreen makes operation easy.
The Momentum machine allows users to choose either regular 7oz or larger 9oz cup sizes.
Klix 450

The efficient, compact design of the KLIX 450 is perfect for the smaller office or workplace. You can select eight items from the KLIX drinks range and the machine will deliver 400 cups of In-Cup perfection at the touch of a button.
8 Drink Selections
Brands you Know and Love
Easy Set Up with our Step by Step Guide
User Friendly
Fast Drinks Delivery