Coffee for the showroom can help close sales
Nexus recommend FLAVIA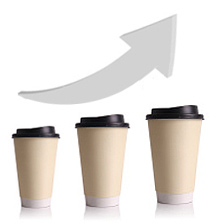 The old saying has it backwards; coffee isn't for closers, it's for closing the deal.
In face-to-face marketing a focus on customer service is absolutely essential and your sales team will benefit from every tool you can give them; creating the right ambience is absolutely essential.
Everything matters in that, from the way your staff present themselves to the salesroom look itself…
…to the coffee.
Whether your product is stationery or executive cars, the drink you serve a potential customer creates an immediate impression of the standards your company holds to.
It tells them how much you care about your employees and about your customers.
Nexus recommends FLAVIA for the highest quality filter coffee and leaf tea with a wide choice including Espresso, Cappuccino, decaffeinated, Earl Grey, etc. Drinks can be offered in china cups (with your own corporate logo) or disposable ones.
It's also important that your coffee machine be easy to use and look after with minimum involvement.
Nexus revolutionise office coffee machine solutions, for any workplace.
We install and service first-class hot drinks stations for your office, reception or showroom, serving the finest hot drinks for your staff and visitors.
Our recommended stations are suitable for a wide range of environments, including:

Showrooms
Dealerships
Service Waiting Areas
Staff Rooms

Administration Offices
Doctors Lounges
Dining Areas
Waiting Rooms

Legal Offices
Accountants Offices
Council Offices
Directors Offices
Call Now:
With 25 years in the refreshments business and a national support network, nobody knows more about vending than Nexus and nobody offers a wider range of vending machines and coffee machines.
To find out more about vending machines from Nexus Drinks give us a call now on:
0800 454 301
Or email us at [email protected] and you can have a coffee machine delivered within days.