Vending Machines for Sale or Rent
Vending Machines That Work For You
Vending machines, particularly tea and coffee vending machines and cold drinks dispensers are the key to a happy and hard-working business environment.
With the right vending machine, you can give your staff on-the-spot refreshment, your visitors an impressive reception and your customers a first class service. With the right vending machine, there's no queuing in expensive coffee shops or waiting for the kettle to boil, just delicious hot and cold drinks on tap, from ice cold filtered water to a fresh and frothy cappuccino, all day, every day.
In fact, a good quality vending machine is an asset to your business, one that can boost productivity and provide a perk to your people. Call us today for free delivery of your machine and to receive your free starter pack on 0800 3357 500 or alternatively fill out our contact form.
Vending Machines for your workplace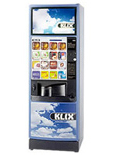 For speed and reliability, choose from the popular Klix, Kenco, Maxpax, FLAVIA and Kenco Singles vending machines for hot drinks, can and bottle vending machines for cold drinks including Malvern mineral water, Coke, Fanta and Doctor Pepper as well as free standing and plumbed-in water coolers.
A hot drink vending machine in your workplace means almost instantaneous coffee, but at barista levels of quality. No more bitterness at having to drink instant coffee or waiting for the cafetiere to brew properly, a hot drink vending machine can provide all your employees with quick and delicious coffee every day.
A cold drink vending machine is great in any workplace. Not everyone needs a daily cup of coffee, but they're sure to appreciate a cold drink at a moment's notice, and being able to easily provide that to everyone in the company without dedicated staff or kitchen services is a great opportunity to keep employees happy and comfortable without raising additional costs.
Vending Machines for the workplace
Vending Machines for your meeting room, office & reception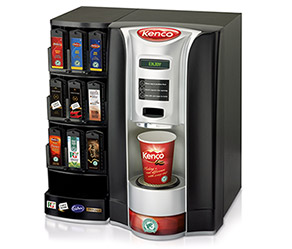 For quality and variety, choose from FLAVIA and Kenco Singles, which provide fresh brew coffee and leaf tea at the touch of a button, with no waste and the choice of china cups or coffee shop style, disposable paper cups.
Make waiting in reception a much more comfortable concept with a delicious hot drinks machine, or even show off your hospitality by offering clients, customers and visitors a hot drink at the door. If you don't have a reception, put a hot drinks vending machine in your meeting room or main office for the ease of offering anyone a delicious drink at a moment's notice and get meetings off on the right foot no matter what you're meeting about.
Vending Machines for your meeting room, office & reception
With 25 years in the refreshments business and a national support network, nobody knows more about vending than Nexus and nobody offers a wider range of vending machines and coffee machines.
To find out more about vending machines from Nexus Drinks give us a call now on:
0800 3357 500
Or email us at enquiries@nexusdrinks.co.uk and you can have a coffee machine delivered within days.