Japanese Vending Machines Serve You Wi-Fi With Your Drinks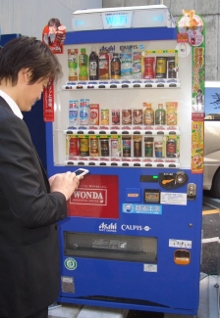 Drinks Company Asahi Soft Drinks Co. has created a new design in vending machines that not only dispenses drinks but provides free Wi-Fi that lets you access the web within a 50m radius.
Japan is racing ahead in the realm of vending machines with the new service which is free for anyone to use and connects automatically without needing to install or pay for the service. However, it disconnects after a 30 minute timeframe, but you can still reconnect after this happens but it means you can't abuse the service by downloading any large files.
After you log in, users will see information relating to where they are currently based, such as where to shop as well as local and regional attractions. The company's ambition is to install 1,000 vending machines across Japan first before increasing that number to 10,000 over the next five years. The vending machines are being developed in conjunction with wireless company, FreeMobile.
For all of your vending machine needs, visit us at Nexus Drinks, we have a range of machines that can fit a variety of different needs including Flavia vending machines.