Keurig® Coffee Machines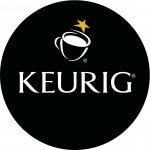 While Keurig brewing systems have been a popular sight in offices and workplace breakrooms throughout the country in recent years, this status is sadly coming to an end.
Keurig is sadly no longer servicing the UK market, and those of you who enjoy popping a K-Cup into the machine and walking away with barista-quality coffee will have to look elsewhere for your coffee.
Fortunately, there are many possible alternatives.
What Should You Use Instead?
Nexus Drinks has been providing workplaces with coffee machines for over a quarter of a century. As one of the UK's leading providers, we've worked with countless customers to match their requirements.
You can contact us to discuss your specific situation and we'll be happy to offer solutions.  We've also produced a guide to your business needs. Alternatively, the FLAVIA Creation 500 is one of the most popular current models of hot drinks machine.