Have you tried Kenco Coffee in Cup?
Kenco In-Cup Systems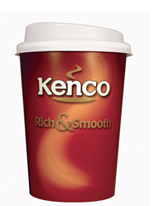 Kenco has a drinks system to suit every need. Kenco won't let you down. Your choice of drinks, fresh and full of flavour.
Reliable and efficient, you can enjoy your favourite drinks time after time.
Each Kenco drink is portion controlled, so it's easy to calculate your costs.
The Kenco In-Cup System is easy to use, simply select your drink and it's ready in an instant.
Kenco Kbar™ 18 Selection Automatic In-Cup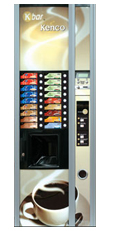 With its contemporary styling, the Kenco K Bar will complement
any environment. It's designed for maximum efficiency and is
simple and quick to maintain. With the added benefit of a
sophisticated self-cleaning system, the Kenco K Bar is the ideal
solution for those who want to minimise operator time.
The K Bar has a 1200 drink capacity, which is ideal for a busy
location for 35 people or over. It offers a wide range of
branded quality drinks to suit all tastes.
Features
Hot & Cold drinks
18 Selections
Fully automatic
Touch sensitive buttons
Change given Full drinks audit

Individual pricing
Time zone pricing
Energy saving facility

With 25 years in the refreshments business and a national support network, nobody knows more about vending than Nexus and nobody offers a wider range of vending machines and coffee machines.
To find out more about vending machines from Nexus Drinks give us a call now on:
0800 3357 500
Or email us at [email protected] and you can have a coffee machine delivered within days.