Are WMF Coffee Machines Right For You?
Only 3 parts to the milk foamer, "plug and clean" adds up to the lowest maintenance requirement for any bean to cup machine using fresh milk. Milk is heated on a per cup basis so no waiting 20 minutes for the milk to heat up. Cleaning is easier and less frequent than any other bean to cup coffee machine.
WMF Bistro! Coffee Machine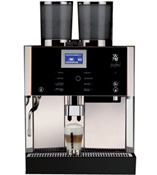 The new Bistro from WMF is the logical refinement of one of the most successful coffee machines in the world market. The single cup automatic professional coffee machine for Espresso, Café Crème, Cappuccino, Latte Macchiato, White Coffee and much more is geared, right down to the last detail and to the highest demands.
The new Bistro has plenty of reserve capacity and keeps its cool even when demand is high. Even the standard version has an hourly capacity of 300 cups of Espresso, 200 cups of Cappuccino, 200 cups of Café Crème and 120 cups of hot chocolate (optional). It is therefore optimal suited for big offices, coffee shops, airports, etc It is for customers wanting more output, more choice and more flexibility.
WMF is delighted to have won the Caterer & Hotelkeeper Equipment & Supplies Excellence Awards 2008 in the category Beverage Making & Dispense with its new Bistro coffee machine.
WMF Presto! Coffee Machine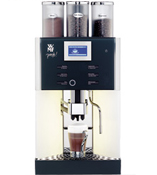 Presto!… coffee wakes up the world.
The fully automatic Presto bean-to-cup speciailty coffee machine is designed with simplicity in mind, making it easy to create an authentic Italian coffee taste.
The Presto is suitable to customers with usage up to 100 cups a day, making it the ideal choice for bars, offices, small businesses and reception areas.
Features to impress
8 Drink selections
Brands you know and love
Easy to set up, simple step by step guide
User friendly
Fast drinks delivery
With 25 years in the refreshments business and a national support network, nobody knows more about vending than Nexus and nobody offers a wider range of vending machines and coffee machines.
To find out more about vending machines from Nexus Drinks give us a call now on:
0800 3357 500
Or email us at [email protected] and you can have a coffee machine delivered within days.