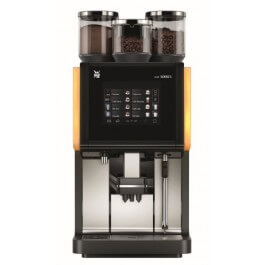 Brought to you by WMF, the WMF 5000S is a top-of-the-line barista-quality bean to cup coffee machine that can easily be operated by anyone in your office.
Better than that – especially for a busy office – it's fast. The design goal is 'indulgence at speed'. This means you can produce enough coffee for a meeting without cutting into meeting time. Your office break won't go by before everyone has their cup of aromatic, delicious, fresh coffee – a perfect morning or afternoon indulgence.
High Technology Coffee
With SteamJet technology in place, the 5000S can pre-heat your cup to the optimal temperature in seconds. You'll also get the benefit of WMF's Dynamic Milk technology. This allows all coffee types to be made easily, including those with more complicated milk or milk foam needs.
And better yet, this is almost touch free to control! The 5000S is easy to operate, with simple touch screen controls. The "Clean in Place" system makes it easy to handle daily cleaning for the 5000S, removing the biggest issue with bean-to-cup machines entirely. This system reduces wear and tear on your WMF, which is already built from premium materials – designed to last.
Investing in a 5000S means your office has dependable high-quality coffee available at all times for a long time to come.
WMF say they always aim to give 'that something extra' – and this machine certainly delivers on that!
Choosing Your New Office Coffee Machine
There are a broad selection of coffee machines on the market, each one being perfect for a different workplace. If you're not sure which of the available machines is best for you, machines like the 5000S come highly recommended – but you can also contact us.
The team at Nexus Drinks have over a quarter of a century's experience in the industry. Combined with our nationwide delivery network, we can provide the best options on the market. Contact us with your needs and we'll be more than happy to provide recommendations.